Top Reads: February 2022
This month's issue of top reads includes music economics, women in headlines and debunking propaganda.
[Did a friend forward this your way? I write about trends in tech and social impact – with a few takes here and there. If you're into it, please subscribe here.]
Bloomberg CityLab | 7 minutes
"The big takeaway: Despite the continued dominance of a few coastal metro areas, many more affordable places have made considerable strides in attracting talent in the nation's heartland, which according to our definition covers 20 states in the center of the country running from the Midwest to the Sun Belt. These include larger metro areas like Austin, Nashville, Minneapolis-St. Paul, Kansas City, St. Louis, Oklahoma City, Des Moines, Omaha, Columbus and Cincinnati. Smaller college towns and cultural hubs like Ann Arbor, Michigan; Madison, Wisconsin; and Iowa City, Iowa, also rank as significant talent hubs."
The population shift out of major cities has accelerated with the pandemic. Many of these mid-sized cities have had a strong foundation for years and have grown stronger. Shout-out to Ann Arbor!
---
The Hustle | 16 minutes
"Spotify has yet to turn steady profits and is still trying to expand to control the streaming market. Sharing more revenues would limit its ability to invest, and a price hike would send users to rivals Amazon and Apple. Spotify might face greater pressure to change — both its payouts to rights holders and the way it handles its controversial podcasts — if it directly dealt with more influential artists. Aside from independent acts who have less clout and a few major performers who own their rights (even Neil Young doesn't own his rights), Spotify does business with the giant record labels who have profited heavily from the company and still own shares in it."
A helpful primer of the music service that made big headlines last month. Spotify is not kind to artists, and probably won't change as it fights to retain market dominance.
---
The Pudding | 8 minutes
"The story of when women make headlines is, like most stories about people, full of contradictions. It is violent, sensational, biased, hopeful and empowering although not all of them in equal measure. This visual essay suggests that headlines used to report women-centered news can be biased and can reinforce existing stereotypes."
This visual essay examines gender bias in news headlines across the English-speaking world. We're conditioned to expect sensationalized content about women, and it's often all we see. This must change.
---
Vice | 4 minutes
"According to Higgins, a lot of the disinformation out of Russia has been easy to debunk. On Feb. 18, the heads of the Donetsk and Luhansk People's Republics announced emergency evacuations of their breakaway republics, citing sudden Ukrainian aggression. Metadata in the videos revealed they'd been filmed two days earlier, suggesting the emergency evacuation had been planned in advance."
Propaganda, meet the Internet. Open source projects can help fight disinformation.
---
Vice | 9 minutes
"To the extent that web3 enthusiasts elevate, to a universal principle, the idea that anyone should be able to do anything they want online without anyone knowing about it, they are arguing for a world in which no one has to be wholly accountable for their actions. The evidence that we have, though, suggests that even in its infancy, web3 is creating a class of people who will have a lot to answer for."
An interesting recap of the Bored Ape Yacht Club doxxing (identity reveal) and its aftermath. People have a right to own their online identity - and to voluntarily toss cash into a private, anonymous digital art community if they so choose. Journalists would out Banksy if given the chance. At the same time, there could also be real issues if these projects end up with Facebook-level power hidden behind internet anonymity.
---
Grist | 14 minutes
"There are plenty of reasons to be skeptical of billionaires' exploits in space. Still, as history shows, the environmental and space movements have been an inspiration to each other."
The "overview effect" often inspires space travelers to take up environmental causes. This article examines early photos of Earth from space and the rise of space tourism.
---
Vox | 14 minutes
"I would argue that we need an attention movement to reclaim our attention and focus. And it requires a shift in perspective. When I couldn't focus and pay attention, I would blame myself. I'd say, "Oh, you're weak. You're lacking in willpower." We need to stop doing that. This is being done to all of us."
It's no secret that our attention is under siege. I cut out social apps a couple years ago, and it's helped me become, well, more attentive to my attention. And I've found many ways to fulfill my curiosity and find connections beyond a feed of content. I recommend trying it for a month to see how it goes!
---
BBC | 6 minutes
"In the almost three years since the Clotilda was discovered, the wreck has undergone extensive archaeological exploration to determine the likelihood of raising it safely. The ripple effect of media and public interest has meant a slew of government, community and private funding for Africatown's revitalisation."
The best documented story of the US and the Middle Passage: the Clotida survivors and their descendants can finally share their truth despite a dark history of enslavement, environmental injustice and denial.
---
Vice | 13 minutes
"The business guys love NFTs because they look like a big pile of money for very little work, and that's exactly how they want to live their life," said another developer at a major video game publisher who, until recently, was actively courting NFT projects and pitching them internally. "But I'll tell you on the dev side, nobody wants to fucking do them—aggressively."
Fascinating look inside the drama unfolding between gaming and crypto. I didn't realize the tension at game studios was so widespread and profound.
---
GQ | 14 minutes
"Just be more conscious of your bodily state, your core affect, your emotional state. Maybe it takes a little practice of self-awareness. But people who are more mindful are happier and live longer. So why not do that? I came across studies of life expectancies showing that people with better emotional regulation, for example, have 60% fewer heart attacks. It's not magic. You can see it reflected in the statistics."
Interesting read on emotions, decisions, and the pursuit of self-actualization. You are what you feel.
---
BioGraphic | 11 minutes
"The service that Turtles Fly Too provides is unique. Besides the U.S. Fish and Wildlife Service, which has the authority to move any endangered animal, "we have the first and only permits in the nation to fly sea turtles," says Leslie Weinstein the organization's president."
This effort to protect an endangered sea turtle species requires drastic measures - flying the turtles from chilly Cape Cod to warmer nesting areas in Texas. Biodiversity is essential for this planet to thrive.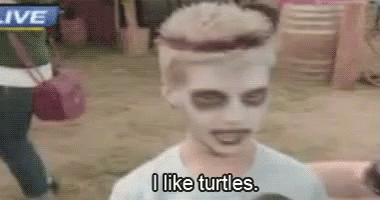 ---
I hope you're taking care of yourself and those around you. Please also consider ways you can help Ukraine.
Until next month,
Garrett